Medicare ⋅ Obamacare ⋅ Maximizing Social Security
Register Now for this Free Seminar!
In this FREE Seminar, Larry will discuss Medicare, Obamacare, and how to maximize your Social Security benefit.
Learn the answers to these and more questions:
I am thinking of retiring soon, what do I need to know?
I am currently working only because I need health insurance; is it true my premium could be ZERO thru Obamacare?  Answer  – YES!!!
How much will my health insurance be if I retire and can't get a tax credit?
Can I retire NOW with affordable health insurance?
Do I qualify for an Obamacare Tax Credit and how much would it be?
When and how should I take my Social Security?
How can I increase my Social Security benefits?
What are Medicare Parts A, B, C, D?
What are the differences between Medicare Advantage plans and Medicare Supplements?
Should I stay on my group health plan or go onto Medicare?
What is the Part D "donut hole" and how can I avoid it?
Am I in the most appropriate Medicare plan for my situation?
Your Medicare Options
Did you know that Medicare Open Enrollment begins October 15, 2018?  Medicare options can be confusing and making the wrong choice can cost you dearly.
Larry Goebel from GOEBEL Insurance & Financial in Fond du Lac will explain your options in this live interactive seminar. Larry and his staff are experts in helping you choose the most appropriate Medicare plan for YOUR situation.  
Larry will cover all of your Medicare choices including:
Traditional Coverage (Parts A, B, and D)
Medicare Advantage Coverage (Part C)
Medicare Supplement Programs
Medicare Prescription Drug Part D plans
Maximizing Social Security
Larry will share some tips and strategies on how you can maximize your Social Security benefits. 
Most people are not aware that they might qualify for additional Social Security benefits. The amount you receive each month depends on the questions you ask and the options you choose.
Social Security can NOT tell you about these strategies because they are not allowed to give advice – they can only give you the answers to the questions that you ask. So how can you get the right answers if you don't know what questions to ask? YOU CAN'T!!  That is where we can help because WE know what questions to ask!
Are You Receiving All of Your Benefits?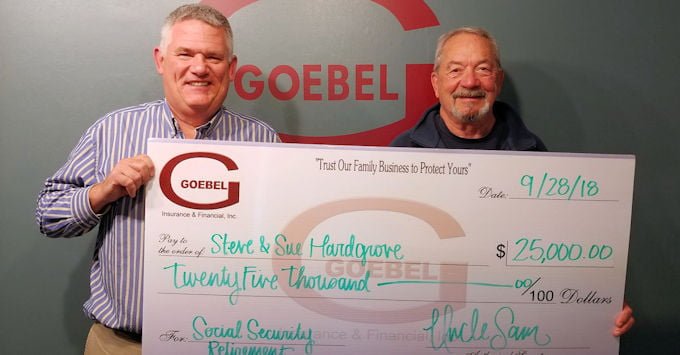 GOEBEL Insurance & Financial recently helped Steve and Sue Hardgrove obtain an additional $25,000 of Social Security Retirement Benefits that they had no idea that they qualified for!!! Social Security can NOT give advice. Fortunately for the Hardgroves, we know the right questions to ask Social Security to maximize our client's monthly benefits.
Are you receiving the maximum Social Security benefit that YOU are entitled to?
Obamacare 
Obamacare open enrollment begins November 1st and end December 15th for coverage beginning January 1st 2019.
Most people are unaware of how much of an Obamacare Tax Credit they can qualify for. Larry will explain the process and how much of a tax credit you may be eligible for.
Many people are not retiring because they need health insurance. GOEBEL Insurance has helped many clients qualify for a tax credit so their health insurance premium is little or nothing, allowing them to retire and enjoy life.
---
Reserve Your Seat Today!
---
Best of all, this seminar is FREE! Sign up today to ensure your reserved seat.
Alternatively, if you are more comfortable signing-up by phone, give us a call at 920-921-7526
P.S. Please share this with your friends – they will be glad that you did!!